Winning Field Trips on a Budget
By Jay Lewis of Lewis Events
Journal Entry:
We finally got all the permission slips turned in after repeated reminders and begging of the students and the parents.  The big yellow bus arrived late to pick up the students, which was frustrating, considering the immense portion of the budget, the bus transportation consumed.  On the  freeway, there was an accident which tied us up in a major traffic jam for another half an hour.  We attempted songs and guessing games which brought a moment of calm to the group.  But not for long.  With the extended time on the bus and the anticipation of the field trip, the students were unusually energetic and had a difficult time staying in their assigned bus seats.  Only three students got car sick which is better than the five on the last trip.  By the time we arrived to our destination, none of us could have lasted another minute on the bus. The location was nice, but quite crowded because they had double booked.  Some of the students were not able to participate in all the activities because of sharing with the other school's students.  Standing in line for the restroom was a new concept.  The paper bag lunch was cut short, along with a few activities so that we could get back to school in time.  Students were allowed to finish their lunches on the bus and a few apples turned into bus aisle bowling balls.  I returned back to school with the few parent volunteers and all the students intact. Wow, what a day!  I'm glad this is a once-a-year "adventure".  I'll get a good night's sleep after that experience.  (A fictional commentary, from a fictional teacher, at a fictional school, with a little drama thrown in to make for a more interesting read).
Traditional off-campus school field trips are lots of fun for the students and can provide great out-of-the-classroom educational and recreational experiences.  At the same time, they can have their share of downsides:
They can be expensive
Require permission slips
Bag lunches
Bus costs and arrangements
The risk of taking students off campus
Travel time on the bus away from valuable learning time
Limited control over the program at the location.
So, how do we provide students with meaningful, educational, hands-on experiences that will be long remembered, fulfill California Standards and not sign away the entire budget in the process?
Is there another way you ask?  Of course!
Consider an "On-Campus" field trip.  The program can be coordinated by the school staff and volunteers.  Or they can also be coordinated as a team effort by the school and an outside organization.  Or finally, they can be coordinated entirely by an outside source.
By hosting the field trip at the school site, more control can be exercised over what is offered and the number of activities that the students may experience.  Time that would have otherwise been spent traveling back and forth on a bus can be utilized at school, allowing students to participate in more activities.  Additional parent volunteers can participate, thereby reducing costs even more substantially.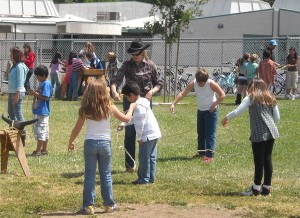 How does it work?  We'll use the California History Experience as an example.  A successful program that they offer at Living History Shows.com (a division of Lewis Events) includes,  offering a variety of hands-on experiences and rotating the students through each activity station.
Experiences might include: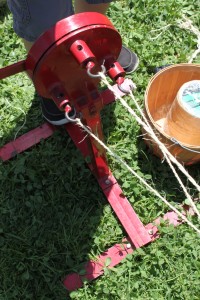 gold panning
trick roping
butter churning
rope making
leather tooling
corn husk dolls
old west games
candle making
feather quill writing
and a variety of other options from which to add or substitute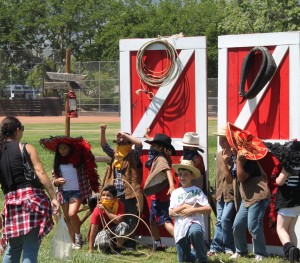 The activity area can be enhanced with a variety of colorful and creative props and décor pieces to help create an old-west atmosphere, and help
make it a more interesting learning experience.  Amplified western music adds to the ambiance. Students spend a certain time period at each station and then move on to the next area.  Once the students have completed the rotations, they can be brought together for a full group assembly and activity.  This may include square dancing, and as an added bonus, a professional trick roping performance.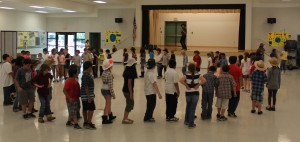 As a great finale, some schools have chosen to provide a western lunch for all the students as a fun way to finish the activity.  A great menu includes fried chicken, mashed potatoes and gravy, pork and beans, and a mouth-watering slice of apple pie topped with a big scoop of vanilla ice cream, all served from a tin pie plate.
If your school is considering field trip options and would like a little help, or someone to share a few ideas, give Lewis Events a call (626-536-8091) or email them through this website.  They have a variety of educational and entertainment-based programs from which to choose, or they can customize a program to meet your needs.
Lewis Events was established in 1996.  They offer exciting, educational, and entertaining programs throughout California and beyond.  These include on-campus field trips, assemblies, family fun nights, fundraisers, proms, homecoming dances, reunions, special events, and more.  Jay Lewis is co-owner of Lewis Events.